SAP Business One.pdf automates your critical business processes to improve operational efficiency – and integrates all business information to drive sound decisions. SAP Business One is an ERP System which provides clear visibility company-wide, so you can gain greater control over all business areas, optimise and plan daily operations more profitably, see who your best customers are, to serve them better. This will ensure the profitability and bottom line growth of your business. The solution comprises the following core functions:
HOW SAP BUSINESS ONE WILL HELP YOUR BUSINESS
Accounting and financial management

Streamline and automate financial management with business software that integrates accounting, sales, and purchasing data. Get ready to improve margins, reduce errors, and drive more profitable decision making.

Customer relationship management (CRM)

Convert more prospects, keep customers satisfied, and maximise revenue. Our integrated CRM tools support all of your sales, service, and marketing activities – from managing campaigns to tracking leads to administering after sales support.

Warehouse and production management

Manage inventory across multiple warehouses in real-time and maintain cost-effective production. Our small business software can help you track and record stock movements, optimise inventory levels, improve on-time delivery, and even make stock-outs a thing of the past.

Purchasing and procurement

Find new ways to save by optimising your entire purchasing process – from planning and order creation to vendor selection, invoicing, and payments.

Reporting and analytics

Empower employees to get answers to their most pressing questions in real time – with quick and easy access to intuitive business intelligence (BI), analytics, and reporting.

Integration solutions

Need to integrate your business processes with company headquarters, partners, or other applications and services? Explore SAP Business One integration solutions for growing and global organisations.
SAP BUSINESS ONE FEATURES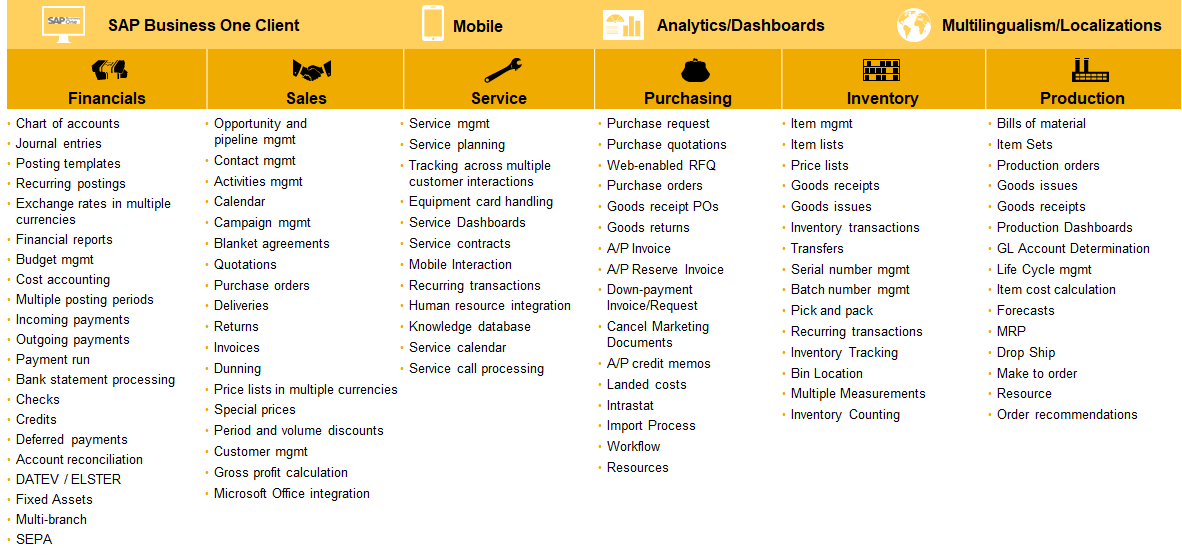 RUN YOUR BUSINESS ANY TIME, ANY PLACE – WITH SAP BUSINESS ONE MOBILE APPLICATIONS
Give your entire team the power to accomplish business tasks from their iOS or Android devices with mobile access to SAP Business One – software that enables small businesses to manage their key processes. Whether your company already uses SAP Business One or would like to learn more, you can try our free mobile apps to enjoy on-the-go productivity today.
Get instant access for employees who need to view and update data from anywhere
Access integrated analytics for real-time decision making
View comprehensive sales and service functions
Increase productivity of employees on the road
START QUICKLY AND MAINTAIN MOMENTUM AS YOUR BUSINESS GROWS
Are you toiling with spreadsheets or limited by stand-alone business software? Save time and effort by choosing the starter package.pdf for the SAP Business One® application. Gain visibility and control quickly while establishing an integrated software foundation to manage your business and support your evolving business needs.