We aim to fully support your company's objectives from the very beginning. We are focused on advising businesses on how best to use technology to meet their business requirements.
Our Full Consulting Services include but are not limited to:
Our full consulting services include an obligation free Needs Assessment focused on assessing your current requirements in relation to the system that is in place (if any) and advising businesses on how best to use the available solutions and latest technology to meet your business objectives. If we feel there is another solution or company that can better meet this requirement, we will point you in the right direction.
Once a business owner defines the needs to take a business to the next level, a decision maker will work together with our Project Manager to define a scope, cost and a time-frame of the project. The role of Project Management is to support and nurture the company from the very beginning of the project till the end, and to ensure that the project is delivered not only in the scope, time and cost but also with complete customer satisfaction.
Business Process and Systems Design
A structured design is followed to ensure that every party adheres to the initial project scoping and project plan. As such, we undertake the following simplified design steps, and to ensure all your company's business processes are supported:
Build the structure of the business defining the inter-relationships of each segment; the customers that are sold to; the products offered to the customers; purchases made from the various suppliers; matching the business process as closely to the system process (and vice versa); defining the relevant people completing the various transactions.
Map the actual processes to be used to run and manage the business.
Allocate people and their levels of authority to the actual processes.
Define the business rules by which decisions are made at each level, and who requires what information.
Set the alert standards by which the business is managed, e.g. when management need to be informed; when their authority is needed; when business rules have been exceeded or targets not met; any business decision needs to be made based on certain criteria against which SAP Business One can monitor its progress
Using our proven implementation methodology, we provide a standard approach to product installations to ensure that quality, integrity and clear guidelines are followed in accordance with best practice.
Successful delivery of a business management solution means using a phased approach with clearly defined tasks, roles and responsibilities. The following diagram summarises the key phases of our Implementation Methodology: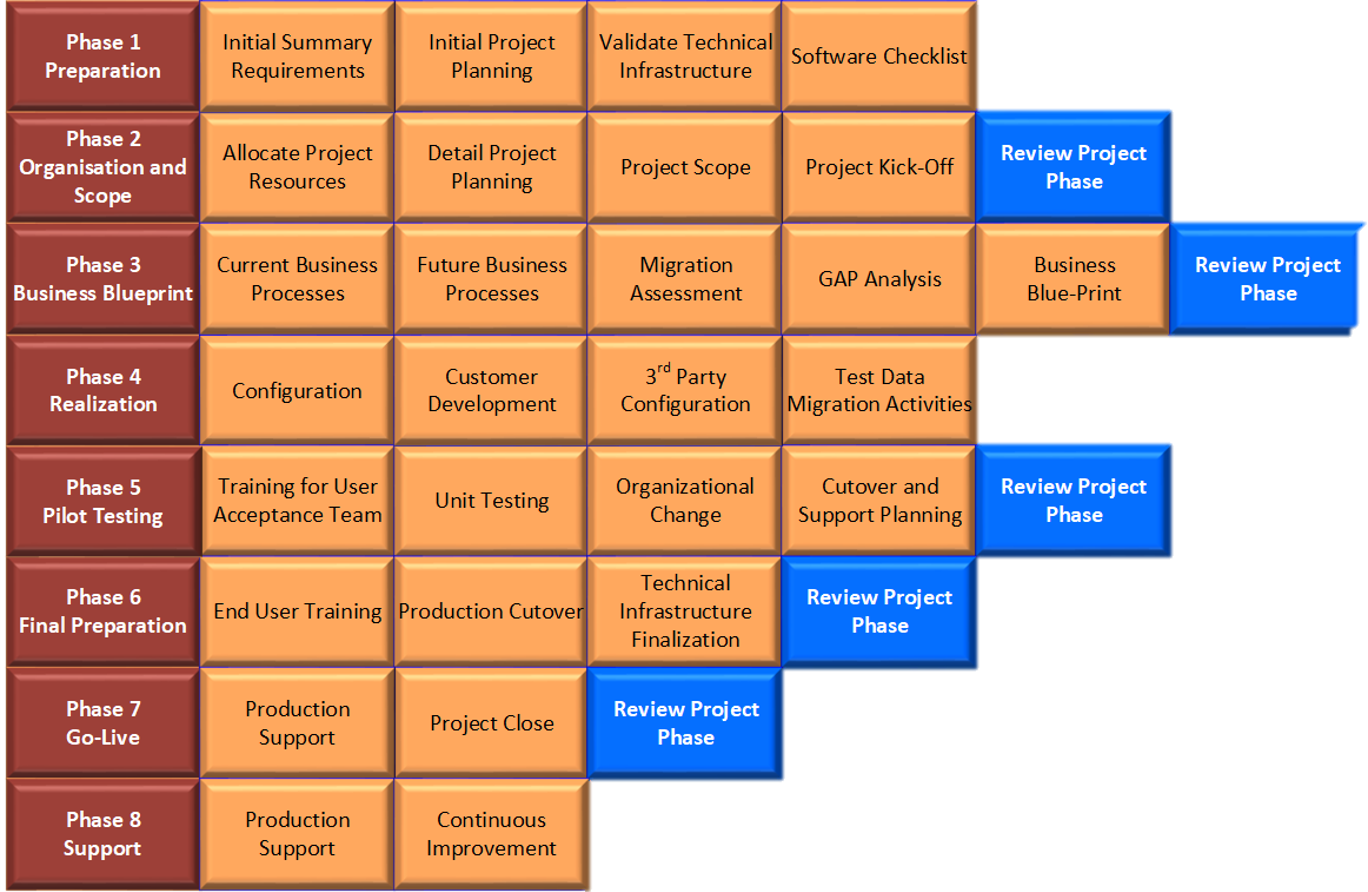 We are able to assist in importing important transactional information from the legacy system. By transferring information such as opening balances, stock on-hand, purchase orders, cost of inventory and more as take on records, you are able to utilise this information where required.
Your company may require customised report writing to facilitate standard reporting intended to work together with your company's individual processes. We are able to work together with you to ensure that your reports deliver the intelligence and logic required to make sound and relevant business decisions.